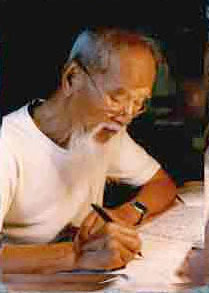 This story is being told through photos from a family album, since they there is much in common among the Japanese who came from Okinawa Island.
The family album of Mr. Kiyotomi Uehara is a photographic record of the historical development of those Japanese in Argentina who came here from Okinawa showing:
working in bars,
the Japanese TB sanitorium in Cosquin,
a market garden,
growing carnations,
the foundations of JAPANESE ASSOCIATION OF CORDOBA,
the foundation of the musical group NOMURA-RIU,
establishing the newspaper LA PLATA HOCHI,
the annual reunions of members of NAKIJIN-SON,
many of the activities of the community.
Through these photos, it is possible to cover the history of the Japanese-Okinawan community in Argentina .
Born in Nakijin, Okinawa in 1911, Mr. Kiyotomi Uehara continued writing articles for LA PLATA HOCHI until his death, which occurred on December 28, 2008 in the city of Bs.As.
The photographs are considered in groups, each of which concerns a center of interest.
Story about the project
In Japan
Bar Rooms
Entertainments
Agriculture
Education
Ilness (TB)
Family Life
Flower Growing
Journalism
Appendix
Arrivals-Conclutions in America
Acknowledgments
Homages
UP